BUSINESS, SCIENCE AND INNOVATION STORIES
Oklahoma's bioscience prowess busy making a difference worldwide

By Kevan Goff-Parker
For The Oklahoman
Published: Sat, June 8, 2019 5:00 AM
Greater Oklahoma City Chamber Manager of Innovation and Entrepreneurship Evan Fay said he believes some people may be caught off-guard by Oklahoma's growing bioscience prowess.

He made his remarks during the final hours Thursday of the Bio International Conference in Philadelphia as the state's more than 40 OKBio delegates, which included researchers, foundation and university representatives and bioscience and investment companies, continued to meet in face-to-face meetings with representatives from around the world.

"We're creating clusters around companies like bioscience, aerospace and defense, energy, and we have a really robust economy," Fay said. "There's a lot more activity, whether it's venture capital investments, accelerator and incubator programs or things that make it easier for entrepreneurs to grow. … It catches a lot of people who aren't familiar with Oklahoma off-guard that there's so much activity happening here."

The chamber and OKBio delegates are working together to change any misconceptions by those unfamiliar with Oklahoma's growing economic diversity and progress. He said bioscience is another growing economic segment that demonstrates the state employs much more than just
blue-collar workers or is focused strictly on gas and oil production.

He said the $665 million acquisition of Oklahoma City-based Selexys Pharmaceuticals Corp., by Novartis AG in 2016, is a good example of how a privately held biopharmaceutical company can demand global attention for its research and design capabilities.

"Oklahomans tend to roll up their sleeves, and they want to help each other. And not by operating in a silo," Fay said. "It's a good sharing economy here, and a lot of the work done is behind the scenes in partnership with others, realizing that you can't do it alone.

"So, we really like to take on that mindset as economic developers in looping together all the right partners, whether that's i2E, the Oklahoma Center for the Advancement of Science and Technology (OCAST) or the universities.
"Everyone has a role in lifting up the bioscience community, whether it is on the education side, workforce-development side or mentorship."

Mohan Purushothaman, Ph.D., president and CEO of Progentec Diagnostics Inc., has been working in the pharmaceutical business for many years and said he appreciates his company's partnerships with Oklahoma-based researchers, bioscience professionals and foundations.

"The company is focused on Lupus. … We license the technology from the Oklahoma Medical Research Foundation, and we've been working with OMRF very closely to create something that can really be taken out to the market and provide value to a lot of patients," Purushothaman said. "We've made some tremendous progress and believe we have a very unique (diagnostic testing) solution that can bring some significant value.

"It's been great so far and we look forward to some exciting solutions to come out of our company."

Lonnie Barish is the vice president of Business Development and Marketing for Cytovance Biologics, an Oklahoma-based contract bio-pharmacological manufacturing company that was originally founded to treat Pompe disease, a rare neuromuscular disorder.

"The company has been intimately involved since its early days in drug research and drug development," Barish said. "We've grown quite substantially within the last couple of years supporting all sorts of research on the biologics side. This trade show has turned out to be quite successful for us. … It is still so much better to do business face-to-face and to meet the people you are working with and further those relationships as well."

He said Cytovance Biologics is growing at about a "40% clip year after year" and is expanding its employee base, while looking into possibly expanding into gene therapy treatment areas with potential new services by this fall.
OSU delegates share future bioscience innovations with leaders
BY KEVAN GOFF-PARKER
FOR THE OKLAHOMAN
Published: Thu, June 6, 2019 5:00 AM Updated: Fri, June 7

Photo: https://www.oklahoman.com/gallery/articleid/5633230
PHILADELPHIA — Three Oklahoma State University researchers this week have been connecting face-to-face with some of the world's top bioscience companies during the 2019 BIO International Convention in Philadelphia.
As part of the Greater Oklahoma City Chamber's branded Oklahoma Bioscience Association (OKBio) delegation, the three OSU-based delegates have been making the most of their meetings with top pharmaceutical and bioscience company representatives.
The team consists of Jacob Mahaffey, assistant director of OSU Research Foundation's Cowboy Technologies LLC; Joshua D. Ramsey, associate professor and Robert N. Maddox Faculty fellow; and Heather Gappa-Fahlenkamp, professor and interim head, Anadarko Petroleum chair, Graduate Program director at the Laboratory of Tissue Science and Engineering.
OSU's goal is to make people's daily lives better, Mahaffey said. Cowboy Technologies has more than 40 technology research projects in its portfolio that researchers are working to get to market for medical applications.
Ramsey said Cowboy Technologies and the Oklahoma Center for the Advancement of Science and Technology (OCAST) both are $150,000 grant investors in supporting an innovation he's helping to develop with one of his former OSU lab students, Momen Amer, who recently finished his Ph.D. The application is a newly designed multichamber, single-use bio (cellular) reactor containing disposable bags that eliminates the need for sterilizing and cleaning in place.
"We're working to commercialize our product and basically translating it from the lab into the commercial sphere where the product can benefit the people of Oklahoma and beyond," he said.
He said OCAST, Cowboy Technologies and OSU's New Product Development Center are working to start a new company based in Oklahoma.
"We've a great time at the conference," Ramsey said. "It's allowed us to sit down across the table from high-level decision makers from companies that might be interested in supporting our research or supporting our technology."
After Gappa-Fahlenkamp earned her Ph.D. in chemical engineering from OSU, she worked for an Oklahoma-based engineering and biotech company, Sciperio Inc., but later transferred to Florida after the original company spun off its bioscience arm. The new company was renamed VaxDesign.
Although she stayed a couple of years working on a contract related to the rapid vaccine assessment program for the Defense Advanced Research Projects Agency (DARPA), she eventually wanted to return to Stillwater and to work at OSU.
"A lot of us moved to Orlando, Florida, from Oklahoma because there wasn't a lot of bio support from the state at that time (early 2000s)," Gappa-Fahlenkamp said. "Florida wanted to specifically grow bio and had lots of incentives for new companies, so that's unfortunately why we relocated there. We worked on what's called an artificial immune system, part of an initiative through DARPA, where they wanted to rapidly develop vaccines for U.S. military's armed services."
Once she returned to work on the faculty at OSU, Gappa-Fahlenkamp continued her research on tissue engineering by mimicking human cells and eventually developed a blood testing system (rare event imaging) that will help provide drug companies and others with additional platforms to test different cell models that are not dependent on testing the human body or animals.
"I was happy in the bio industry, but I decided that if I was going to go back into academia, I wanted to go back to OSU," Gappa-Fahlenkamp said. "I've continued in the same area of tissue engineering to design better models to predict what's going on in the body."
Gappa-Fahlenkamp hopes bioscience companies eventually will be interested in partnering with her and OSU on licensing the intellectual property involved in her research.
"I'm originally from Oklahoma, and I believe that the people here and at OSU have a good opportunity to grow in biomedical engineering," she said. "There's a lot of great things going on in this state that are being well-supported. I believe we can have a significant effect on the health care industry, and we have a lot of people at OSU working in tissue engineering, drug delivery applications and drug design."
Aircraft Towing Systems

Centerlines Magazine
Supplier News
Aircraft Towing Systems Partners with Oklahoma State University on New Transportation System

Aircraft Towing Systems World Wide LLC and Oklahoma State University's New Product Development Center (NPDC) are developing a prototype designed to move aircraft to and from airport taxiways and gates without the use of a jet's main engines.

Led by OSU's NPDC Director Robert Taylor, Ph.D., the center began working on the project in November 2016 and it's currently developing a testing system for the prototype. The OSU team also recently nominated ATS for the Oklahoma State Regents for Higher Education's "Business
Partnership Excellence Award," which was presented at the University of Central Oklahoma in Edmond, Oklahoma in March.

"The unique ATS concept originated with Polish businessman and entrepreneur Stan Malicki, along with the help of his hand-picked international engineers," Taylor said.

Taylor noted that Malicki, president of ATS, likes Oklahoma's pro-business environment and friendly workforce. Company Vice President/CEO Vince
Howie is a partial owner of ATS and meets weekly with the NPDC ATS team as they fulfill the research, development and design on the contract.

"When we started working on the project in 2016, we basically had a package and pretty much a blank slate before we created a team out of converged departments, professors and mechanical, aerospace, civil, electrical and computer engineering undergraduate and graduate students, including five Ph.Ds.," Taylor said. "Our research and development of ATS provides students with real-world experience, and that is what our center is wrapped around – the commercialization of new product development and contributing to economic development in Oklahoma."

ATS broke ground at the Ardmore Industrial Airpark in November 2019, and installation of the underground channel for ATS's electric-powered railway system should be complete under select portions of the airport's ramp areas by this summer.

"I suspect there are small bits and pieces we'll need to adjust, which is common when you introduce a prototype and test the system, but we're excited," Taylor said. "Some of the benefits of ATS will be a reduction of fuel emissions, and it should improve efficiency, as well as an increase in safety
because ATS will be run by ground control, so there should few if any aircraft accidents on the ground.
"With a fully installed ATS system, a pilot can land on a runway and move onto the taxiway, where he or she can align the aircraft's nose wheel into an ATS pull car. Once the nose wheel is secured, a pilot can turn off the main engine and ATS safely moves the aircraft using its channel system to the appropriate gate," he added. "The reverse process is used when pilots are ready to takeoff. Pilots will then turn on their engines and drive off the pull car,
move into position and take off."

Howie, former director of aerospace and defense for the Oklahoma Department of Commerce, said Taylor and the OSU NPDC team are doing work that may revolutionize the way airports run in the
future.

"ATS is fully automated, powered by an electric motor that moves aircraft autonomously using a rail system located in a channel just below the surface of select portions of the airport taxiways and gate areas," Howie said. "ATS will negate the need for tug-and-cart equipment and associated personnel. We do foresee increased operational efficiencies, including the potential to increase the speed of airport gate turnover, as well as environmental and safety benefits."

Howie said ATS has the potential to provide solutions to the challenges of wasted aircraft fuel because fuel will be saved when the main engine is shut off.

"We believe ATS will reduce harmful fuel emissions, decrease noise around airports and potentially extend jet engine life, all while reducing aircraft collisions," Howie said. "This will create an overall safer and more efficient takeoff and landing system."
He said ATS has been happy with the type of work the OSU NPDC team has performed.

"The kind of work they do has really been outstanding, so we're really thrilled," Howie said. "It has been a marvelous relationship. People are excited to see the prototype operational."

Howie said various contractors in Oklahoma, Texas and at additional locations are working on different aspects of the production. In Oklahoma City, Citadel Construction Company continues its work on installing the channel at Ardmore Industrial Airpark. In Tulsa, Oklahoma, Data3 Corporation
is preparing the software that will allow airport control towers to operate ATS.
Production Machine and Tool (PMT) is a veteran-owned small business offering extensive machining and manufacturing expertise out of its production facility in Wichita Falls, Texas. The PMT team continues to work from OSU's NPDC team's technical drawings as they create the various metal components of the ATS system.

"The ATS team recently made changes to the tow cart and tow dolly, ordered materials for the center rotating plate and continue work on the system's synthetic wheels," Howie said. "We believe by early March, painting of the disassembled pull cart for the electric-powered railway system should be complete. Aberdeen Dynamics of Tulsa, an expert hydraulics system company, will travel to PMT in early March to help assemble the ATS pull-cart, while Poclain Hydraulics, the company that built the hydraulic system's pumps and motors, will also have a representative present to assist
as needed.

For more information about ATS, please visit http://www.aircrafttowingsystems.com or contact Kevan Goff-Parker (405) 514-3972
BEST OF THE BEST VIDEOS: OKDHS' DEVELOPMENTAL DISABILITIES SERVICES DIVISION
Here are videos I did for Oklahoma Department of Human Services' Developmental Disabilties Division. I set everything up, interviewed and wrote the stories and scripts, edited them and introduced them during the Oklahoma Governor's Conference on Developmental Disabilities.
Below our 2015 winners: Please click on box below:
Here's a media release taken from one of the videos I created. It is word-for-word.
Family awarded for foster parenting
The Oklahoma Department of Human Services Developmental Disabilities Services (DDS) hosted its 28th Governor's Conference on Developmental Disabilities recently in Norman.
During the awards ceremony, DHS recognized DDS foster parent Pamela Linton with an Award of Excellence and Best of the Best Award in direct support services.
Linton was nominated by Lari Huey, a supervisor in DDS' Specialized Foster Care Agency Companion Program, who works in Pauls Valley serving Area III's 35 southern counties.
She said she considers Linton and her husband, Gary, as the heart, soul and conscious of the Specialized Foster Care Agency Companion Program.
"Pam and Gary want someone who needs a family, and they work a program and a lifestyle out to fit the person who comes into their home," Huey said. "They just become what that person needs and they give so many gifts. Pam is the most nurturing person you'll ever meet, and she brings that component.
"Gary brings his quick wit and his advocacy. Together, the balance they bring, the emotion, the compassion and the passion, it is what makes us in the DDS business get excited and keep motivated. They make us want to be better people in general."
Linton worked as a licensed Registered Nurse at the J.D. McCarty Center when she met a young child named D.J. She became a certified DDS foster parent in 1993, and the couple later adopted D.J.
Not long afterward, Linton gave birth to a daughter. Through the years, the Lintons have opened their hearts and home to several long-term individuals with developmental disabilities, including Kyle, Shawn, Walter and Phillip.
"I'm more laid back, but my husband is totally opposite, so I think the combination works," Linton said. "I do certain things better than he does; he does certain things better than I do and we just kind of click. If you're married, both people have to agree on doing this because you take in these young men and they just become a part of our family."
Michelle Paty is a former foster care specialist who worked with the Lintons prior to becoming a planning care reviewer for DDS in Pauls Valley. She said the Lintons have modified their home to be wheelchair accessible and made other accommodations for D.J. and the individuals they foster.
"Their home is made for the individuals they care for," Paty said. "Everything is for their convenience, comfort and happiness. They take excellent care of them and it is so evident that they're in it for the people they serve, not just for themselves."
Barbara Butin is a DDS foster care specialist who has worked with the Lintons for the past several years.
She said being a DDS foster parent can be a tough job, especially when one of the individuals you care for moves or passes away.
"Shawn passed away in 2006 but survived much longer than was expected. More recently in February, their foster son, Walter, passed away suddenly and unexpectedly," Butin said. "It's a tough job, and not everyone can do it. These are strong, dedicated loving people … true people. It's a great loss to their family, but they're strong and they're dealing with it, but it is very hard."
Linton said Walter lived with her family for 19 years.
"He just had such a kind heart," she said. "He was another little guy that when he came to live with us, I think he weighed about 40 pounds and he was about 12 years old. He finished high school and worked at the ABLE Workshop before moving onto ReRun Junction.
"He loved it there and loved getting up and going to work. He didn't even like having a day off. He was just a really funny guy. We miss him."
Linton said each individual with developmental disabilities that she fosters with her husband becomes a part of their family.
"You have to keep in the back of your mind that at any day they could be taken, too, or sent home to their biological family," Linton said. "Other things can happen that they have to leave. You just have to love them as long as you can, and if you have to let go, you have to know how to do that, too.
"You just do the best you can for them while they're here, teach them all that you can teach them and hope that when they leave, they take something with them."
The criteria for winning an Award of Excellence focuses on a nominee's tenure, experience, relationship to the individual(s) and the families they support, leadership, advocacy and their success in supporting people to be included in the community.
"Our award winners say they absolutely cherish the people they serve," said JoAnne Goin, DDS director. "They're practical, determined and compassionate folks who treat their individuals like dear friends and family, all the while encouraging and teaching them how to become more independent members in the communities where they work and live."
Breaking news, severe weather alerts, AMBER al
Oklahoma Gazette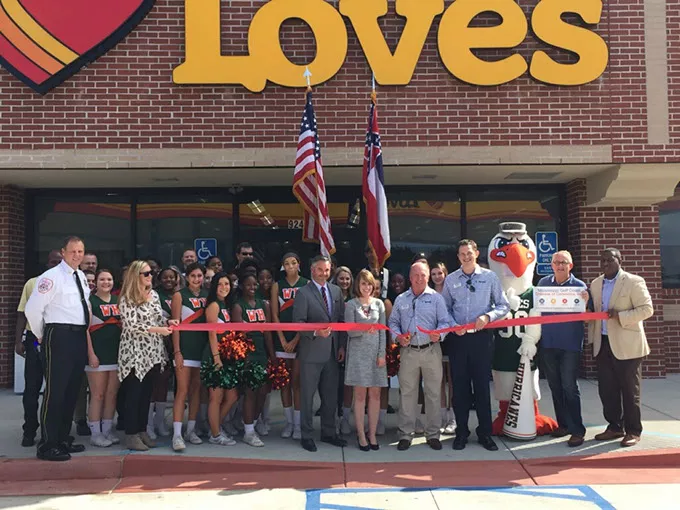 Oklahoma owned and operated Love's travel and convenience company grows as its family does
With 422 Love's Travel Stops & Country Stores nationwide and 73 in Oklahoma, America loves the Oklahoma City-based, privately owned, multibillion-dollar company.
Strategically built along local and U.S. highways, the company plans to open 50 more shops this year.
However, in the early 1960s, finding lasting business success was a bit of a challenge for Love's founder and chairman Tom Love and wife Judy, who is now Love's corporate secretary and chairwoman of the Love Family Fund.
"We have the best customer services and this sets us apart," said Kealey Dorian, Love's media specialist. "Tom and Judy's sense of family really trickles down from the corporate office into the field and we believe our great customer service set us apart."
More accurately, it's succeeded due to, customer service, hard work and a commitment to community service.
"Tom Love is still extremely active as the founder and executive chairman," Dorian said. "We employ about 17,000 employees across the nation and anticipate hiring thousands more this year. We love supporting fellow Oklahomans."
Dorian said that because Love's is nationwide, the company donates a large part of its budget in support of area nonprofits' needs.
Dorian said as for Love's financial footprint, each new store has an average capital investment of about $11 million. As for Love's charitable arm of the company, it has already donated more than $5 million this year statewide and beyond.
"The company also steps up to help communities in times of crisis," she said. "When there were terrible wildfires in the panhandle in Oklahoma and Texas, we donated gas cards to farmers and others delivering supplies to farmers and ranchers. Much of the hay had burned and people needed food for the animals, so we worked with the Oklahoma Farm Bureau to supply fuel cards for those bringing in hay for the animals."
Building a legacy
As one of seven children born to Margaret Love and F.C. Love Jr., Tom Love knew early on he had big shoes to fill if he would someday match his father's achievements. Love Jr. was a successful attorney and civic leader and in the late '60s, became Kerr-McGee Corp.'s president.
After dropping out of St. John's University in Minnesota and briefly attending the University of Oklahoma, it soon became clear Love's passion was business, not academics.
Early on, Love managed car washes and restaurants. He married Judy in 1961. By 1964, the couple had family feed as their brood grew. They saved their money before next trying the family's oil business in western Oklahoma.
The Loves leased a self-serve gas station for $5,000 in Watonga. Soon, they leased a similar one in Sayre. Their shops also sold Kerr-McGee Corp. gasoline.
By leasing the fuel stations and operating with used equipment, the couple could test the shops out before buying them. Eventually, the Loves had 40 fuel stations and had named their company the Musket Corporation.
Moving with the times in 1972, they expanded their filling stations to offer customers a multitude of shopping choices, and added the first Love's Country Store, a combination convenience store and self-serve filling station, in Guymon.
Love's Country Stores' one-stop shopping located mainly near interstates soon hit the spot with professional truckers, RV travelers and other long-distance drivers hungry for clean, safe and 24-hour service. The company continued to expand to other states and in the early 1980s, added gifts, toys and eventually in-store restaurants like Subway, Winchell's Pizza Hut and others.
The Loves opted for a big family, too. They raised four children. Three work for the family business: daughter Jenny Love Meyer is vice president of communications and sons Frank and Greg Love are co-CEOs. A third-generation Love family member now works for the company in field services.
Thirteen Loves Travel Stops & Country Stores now dot the greater Oklahoma City metro, including Guthrie, El Reno, Norman and Choctaw.
Love's employees also give to local food banks, tutor students and stretch well beyond in support of many local and national nonprofits.
"Local charities also benefit during our store openings during ribbon-cutting celebrations as partners with local chambers of commerce," she said. "We also nationally support the Children's Miracle Network Hospitals during their annual fundraising campaign in support of local children's hospitals. Overall, the Love's companies have raised more than $17.5 million for Children's Miracle Network Hospitals since 1998."
Print headline: Keep on truckin'; Oklahoma owned and operated Love's travel and convenience company grows as its family does.
The Oklahoman — Oklahoman Exclusives: April 25, 2019
From herbal shop to a beauty brand
By Kevan Goff Parker
For The Oklahoman

Oklahoma City Quail Creek resident Joyce Morales, 91, grew up in Manchester, England, during World War II. She said it was normal then for her mother to visit the herbalist's shop to buy herbal packets to help relieve her family's aches an

Today, the spry senior says she again is using herbs to help nourish both her skin and alleviate pain. Morales swears by the benefits of a soothing salve and an anti-aging luxury beauty cream, both infused with CBD oil and sold online under the brand names Sweet Mary Jane and Beard Buzz — brands created by her family.

"Actually, it was a big surprise for me because I knew nothing at all about medical marijuana and CBD oil, but cannabis is also an herb; it's not made in a laboratory," Morales said. "I'm in very good health, but I do have migraines and a bit of suffering in my joints. I apply the salve to the left side of my face at night and my migraines hardly last any time at all."

She said the anti-aging cream also helps to reduce inflammation and her occasional facial skin ablations. The skincare products, Sweet Mary Jane and Beard Buzz, are rich in cannabidiol, but don't make people high.

Morales' granddaughter, Mallory Musallam, 31, is also a fan of the luxury beauty products. A marathon runner while attending New York University, the college student had painful shin splints and aching calves.

Musallam said she eventually turned to her father, Dr. L. "Sam" Musallam, for help. Dr. Musallam had practiced family medicine in northwest Oklahoma City for nearly 40 years.

"I tried everything," Mallory Musallam said. "Supportive arches, YouTube videos, but it was on the advice of my father that I tried CBD oil. He gave me some and it's the only thing that worked."
Mallory Musallam said father and mother, Dee Morales, decided in 2018 to become business partners. They quickly set to work creating two lines of CBD-oil infused luxury beauty products, Sweet Mary Jane and Beard Buzz.

"My father was a proponent of CBD oil long before Oklahoma considered legalizing it," Mallory Musallam said. "Our luxury line of products represent the same care and precision my dad demonstrated in caring for his patients. He also put the great care into formulating our CBD products."

Morales, a veteran television producer for national TV affiliates, said she and her ex-husband were just weeks away from receiving the first boxes of their new product lines when Dr. Musallam suffered a sudden and fatal heart attack in late November.

She said the loss of her former husband of 38 years and father of their three grown children was hard, but she and her daughter decided to move forward with the business.

Mallory Musallam is the new company's director of communications and marketing.

THE TINKER TAKE OFF NEWSPAPER

Engine MRO production in 2018
76th PMXG doubles F119 Engine MRO production in 2018

Kevan Goff-Parker
Staff Writer

The 76th Propulsion Maintenance Group and its partners have worked steadily to heighten production of depot-level overhauls on the F-22A Raptors' F119 engines since the first engine was refurbished at Tinker Air Force Base's Oklahoma City Air Logistics Complex in 2013.

The same year, the Air Force set ambitious requirements that doubled the OC-ALC's F119 engines' repair production rate annually. 76th PMXG Deputy Director Steve D. Stoner said 2017-2018 was the first year the OC-ALC has met the doubled requirement.

"We hit the maintenance, repair and overhaul requirements on 70 F-22A Raptor F119 engines," Stoner said. "This was a very good year for us on that engine, but PMXG didn't do this alone. We used an enterprise approach with Pratt and Whitney through our public-private partnership — both parts of the team share this success and we couldn't have done it without them."

A massive accomplishment
Col. Abby Ruscetta, 76th PMXG commander, describes OC-ALC's meeting of the Air Force's ambitious F119 engine MRO requirements' goal as "a massive accomplishment."

She should know since one of Ruscetta's previous jobs was at the Pentagon where she was required to report and discuss the accelerated MRO tempo of the Raptors' F119 engines with top military leaders.
"The F-22 Raptors were a part of my portfolio when I was chief of the Fifth Generation Aircraft Branch in Logistics, Engineering and Force Protection at the Pentagon," Ruscetta said. "We discussed ways to support a very ramped up schedule."


"Every year for five years there was concern because the Air Force was asking the Tinker-Pratt partnership to double production and we didn't know if it was possible."

She said the request to double MRO production annually isn't normal practice for the Air Force, but the F-22 Raptors were flying significantly more hours than originally programmed which increased their engine requirements.

"During the fifth year of doubling, we were asking so much of Team Tinker and hoping that they could actually do it," Ruscetta said. "The 76th PMXG and the Pratt team perfectly met our production targets last year. I am surrounded by amazing leaders and mechanics.
"I just feel so lucky to be a part of the 76th PMXG partnering team."

76th PMXG's use of 'Art of the Possible'
Ruscetta said the 76th PMXG has about 2,000 employees at Tinker AFB and its strength comes from its diverse squadrons and other enterprise partners that support the OCALC. PMXG includes the 544th Propulsion Maintenance Squadron, 546th PMXS, 547th PMXS, 548th PMXS, Engineering Branch and the Production Operations Branch.

In addition to PMXG's partnerships, the propulsion enterprise includes the Engine Program Office, Supply Chain Management Wing and the Defense Logistics Agency

Ruscetta said her group uses the "Art of the Possible" as a guide in its MRO work.

"We have this quiet, steady workload success story where the 76th PMXG team just knocks it out of the ballpark every day," she said. "We say, 'from the shop floor to the chief's door,' as we look at how we're making it happen and we're always checking to see if we are all rowing in the same direction."

76th PMXG's scope of work
Tinker AFB is the only Air Logistics Complex that repairs engines for the Air Force and the OC-ALC is one of the largest units in Air Force Materiel Command.

"We perform MRO on lots of engines, including some of the oldest like the TF33 engine on B-52s to the newest engines such as the F135 used on the F-35 — that's how broad the spectrum is," Ruscetta said. "Each engine brings its own special personality, challenges and opportunities."

She said a smaller engine her group supports is the F107 engine. It powers airlaunched cruise missiles in support of the Air Force's nuclear deterrent mission.

"We also have this big complex back shop that repairs around 10,000 parts on any given day," she said. "It can be mind-boggling because since every engine line is different, they need different parts, including some that were manufactured in 1953, as well as others produced yesterday.

"We're talking about a spectrum of age and opportunity, so we use the AOP-gated process with our whole engine work and the Drum-Buffer-Rope (an AOP-related
planning and scheduling solution) for our back shop's high-volume and high-variability workloads."

Ruscetta said 76th PMXG's engine program office provides workload requirements for engines and the Supply Chain Management Wing provides requirements for all engine parts for the warfighter.

Meanwhile, propulsion not only repairs parts for the supply shelf, they also repair engines for the program office, so they're both a supplier and a customer.

"I really feel honored to work with the team of amazing artisans in the 76th PMXG because at the end of the day we are asking our mechanics and everyone who supports them, to do new and different things, whether we're repairing 1950s parts or developing (future) repair processes for 2020 parts. That's our spectrum," she said.
We're not your 'grandpa's depot'
Ruscetta said by working hand-in-hand with engineers from the program office, 76th PMXG artisans also analyze old engine parts for replacement opportunities, especially when there are no vendors still producing the parts.

They use 4-D printers to examine older parts to determine the level of repair
required. This analysis is designed to assist the 76th PMXG in developing repairs while the enterprise attracts future vendors to produce parts that meet the exact measurements and requirements needed.

"This is not your grandpa's depot," she said. "Down the hall, our other artisans are looking at models of what repairs we think the F135 engine will need in the future.

"Whether it is repairing an old part that no one is making anymore or coming up with a new repair for a part that has not yet broken, we're on the cutting edge of the propulsion business, and we want to be the propulsion industry leader of choice for repair and overhaul."
Published Nov. 21, 2018
By Kevan Goff-Parker, Staff Writer
72nd Air Base Wing Public Affairs
Clips from my work for Oklahoma Department of Human Services Developmental Disabilities Services as Public Information Manager
http://www.normantranscript.com › news › family-awarde…
Jul 6, 2014 — The Oklahoma Department of Human Services Developmental Disabilities Services (DDS) hosted its 28th Governor's Conference on Developmental …
https://oklahoma.gov › … › Newsroom
Mar 25, 2015 — Kevan Goff–Parker – DHS Developmental Disabilities Services Phone: (405) 521-4972, Cell: (405) 301-6676 email: kevan.goffparker@OKDHS.org.
https://digitalprairie.ok.gov › stgovpub › download
PDF
Mar 4, 2015 — Welcome and Introduction of DHS Developmental Disabilities Services Director. JoAnne Goin – Kevan Goff–Parker, Developmental Disabilities …
http://www.okdhs.org › OKDHS Publication Libra…
PDF
citation instructor with the Hughes County Emergency Medical Service. … SCC division coordinator for Oklahoma County 55-F; Kevan Goff–Parker, public.
You've visited this page 3 times. Last visit: 2/14/22
https://www.examiner-enterprise.com › 2014/04/18 › h…
Department of Human Services Director Ed Lake gave the opening remarks to the … said Kevan Goff–Parker, a spokeswoman for DHS Developmental Disabilities …
Oklahoma Gayly: Cover Story
In Life and Death, Love is Love
By Kevan Goff-Parker
Radio star
By Kevan Goff-Parker | March 3, 2014
Like his grandmother, during the past quarter century, Fudge has developed his own hunger for saving items of historical significance, including restoring historic homes and buildings, an interest he shares with his wife, Shannon.
Their shared passion led them to renovate Kamp's Grocery; the Cameron Building; and homes in Oklahoma City's older neighborhoods, such as Linwood, Crestwood, Jefferson Park and The Paseo.
But in recent years, the efforts of the Fudges and others have been to revitalize the Film Exchange District from what some once considered akin to a Skid Row into the city's newest darling and fastest growing district.
Today, Film Row's buildings from the district's heyday in the 1920s and 1930s have been revived and repurposed for modern enterprises. In the past, films were brought into the area by train and theater owners screened them on-site prior to showing them to the general public. Vendors also used the district's buildings to supply theater owners with concession supplies and equipment. For nearly 65 years, most major movie production studios, including MGM, Paramount Pictures, Warner Brothers, Fox and Universal, had film exchange distribution offices there.
But when the Hollywood distribution system changed, Film Row later became dilapidated. Shady bars, prostitutes and drugs became a common problem for the area.
Fudge says he first became interested in Film Row after being approached by David Wanzer, who wrote his architectural college thesis on the Film Exchange District. As the founder and chairman of Claims Management Resources and various other companies, Fudge decided in 2004 to buy his first building there at 614 W. Sheridan Ave.
"We're an overnight success that took nine years," he says, laughing. "When we started down here, I thought that it was the only quadrant in the central business district not being developed. Everything was moving back Downtown, and it seemed to me the only quadrant that had any real opportunity left was the Film Exchange District. I felt like it had the brand on the market because anything to do with film or the movies has a cachet. I
thought it was something we could uniquely brand."
Today, Fudge and his wife own more than a dozen addresses in Film Row. They are co-owners of the popular Joey's Pizzeria. Their latest projects
include the filled-to-capacity Hart Building (formerly Hart &
Industrial Supply, 726 W. Sheridan Ave.), and the soon-to-be completed
Sliver Building. State and federal historical rehab tax-credit programs
were a huge driver in deciding to invest in the area, Fudge says.
Fudge renovated the Hart Building with the expert help of Bill Gumerson and
Associates. One way to breathe new life into Film Row was to make it
affordable for nonprofits such as Individual Artists of Oklahoma, which
has its gallery there.
Fudge says he originally wanted to be a lawyer, perhaps following in the
footsteps of his politician grandfather, Hugh Sandlin, who served in
both the Oklahoma House and Senate. Still, he decided to join his
family's bill collection business after a trip to Europe. The trip was a
gift from his parents when he graduated from Oklahoma State University.
By 1988, Fudge founded his own company, also named CMR, with a much
larger business portfolio.
"If I had to make my living in real estate or redevelopment, I'd probably starve to death," Fudge says.
COME ONE, COME ALL
Described as a family- and pet-friendly event organized by IAO, Premiere on Film
Row features live music, art exhibitions, film screenings, gourmet food
trucks and an indoor interactive park.
"IAO has brought a lot of people into the area, and now, every third Friday
of the month, we'll have a happening known as Premiere on Film Row,"
Fudge says.
Last spring, Fudge's restoration efforts were recognized by Oklahoma City's
16th Street Plaza District Association when he was awarded the 2013
Urban Pioneer Award.
"I like to find historical buildings and put them back together again," he says. "Because Oklahoma is such a young state, we have brick buildings that were built in the 1920s and 1930s. They've been absorbed in my passion to put them back together and restored … or at least to make sure they're protected and put back together in fun and interesting ways."
One tenant of the Hart Building who appreciates Fudge's efforts is Kelly
Burley, KOSU Radio's director. The station celebrated its grand opening
in September 2013. He says Film Row is a perfect fit for KOSU's needs.
"We went through a strategic survey and determined we needed a place where we could engage with the community in a whole new way with more local news and music," Burley says. "Chip Fudge was the catalyst, and we began talking two years ago about having a presence in the Film Row District.
He was retrofitting the Hart Building. We were looking for a space
where we could invite the public, and we worked out a great arrangement.
"Now we're seeing the success of what he's done with the Hart Building.
We're seeing folks like 21c Museum Hotels looking at renovating the
historic Fred Jones plant, the new charter school and new development
around Stage Center."
Burley says one of the things he likes best about being in the Hart Building,
and on Film Row, is the sense of vitality in the area.
"There is an incredible energy in that building," he says. "It is absolutely
fabulous to be a part of the revitalization of that building and
district."
transports you, and it makes me feel like a kid again."
The Journal Record
By Kevan Goff-Parker
The Journal Record
Posted: 06:39 PM Friday, October 25, 2013
OKLAHOMA CITY – Toyota Motor Corp. has reached a settlement after losing a $3 million verdict over a 2007 crash.
Oklahoma County District Judge Patricia Parrish announced Friday morning that Toyota's attorneys and counsel for the plaintiffs reached a confidential settlement. That means there will not be a punitive damages phase of the trial.
She also said Toyota's defense counsel had already hopped on planes and went where they wanted to go. Before the jury left, the judge, plaintiffs' attorneys and jurors held a spontaneous question-and-answer session about the case. It lasted more than two hours.
The civil case has international prominence, plaintiff's attorney Jere Beasley said, because it was the first wrongful death and personal injury jury trial verdict in the U.S. against Toyota over unintended acceleration. The lead attorney for the defense, Randolph Bibb Jr., did not return phone calls as of press time.
"This is the first case where electronics has been the issue," Beasley said, in reference to the 60,000 customer complaints Toyota has received about surge issues in some of their vehicles. "This case wasn't about faulty floor mats or sticky brakes. Toyota picked this as a test case because they thought they could win in this conservative state, but this is a landmark case where the jury was more effective than a congressional hearing or the National Highway Traffic Safety Administration."
Toyota has blamed thousands of incidents involving possible sudden unintended acceleration on its all-weather floor mats and later on issues with sticky pedals. Both problems caused Toyota to initiate separate recalls, but according to Toyota's own documents and testimony before Congress, the car company's floor mats and sticky pedals accounted for only 16 percent of those complaints. On Thursday, the jury also found Toyota was in reckless disregard of the rights of plaintiffs.
The Oklahoma lawsuit involved two Yukon senior citizens who were friends. After leaving an Oklahoma highway in 2007, the driver's 2005 Camry suddenly accelerated as she approached a stop. Despite pumping the brakes and engaging the hand brake, she lost control of the vehicle. The resulting accident involving the driver, Jean Bookout, now 82, and her close friend, Barbara Schwarz, 70, caused Bookout serious injuries. Schwarz died later that day from her injuries, which included a ruptured spleen.
After the accident, Bookout was found unconscious, while Schwarz was awake and described the accident to rescuers. She also called her husband, Charles Schwarz, and made another phone call. The plaintiffs' attorneys creditedCharles Schwarz for constantly reminding others to investigate Bookout's vehicle for potential problems. They also said that Charles Schwarz never blamed Bookout for the accident, but revealed that her friend's death has weighed on Bookout for more than six years.
During the Q&A session, the sole male juror said he hoped the verdict and settlement has helped Bookout find some comfort.
"I hope this takes some weight off of Ms. Bookout," he said.
During the hearing, attorneys for the plaintiff said the 2005 Camry's software was full of defects and its electronic throttle control system was poorly designed and did not conform to industry standards. They also said that the car's lack of a brake override system may have also led to the crash. Toyota's attorneys countered by blaming the crash on Bookout by trying to persuade the jury that she possibly hit the accelerator instead of the brake or did not press down hard enough on the brake. Members of the jury said they were convinced by the fact that 150 feet of heavy skid marks were found at the scene of the accident.
Although attorneys are not allowed to discuss the lawsuit further, Beasley said his clients are satisfied with the settlement. Meanwhile, hundreds of similar cases are now pending in state and federal courts around the nation.
In July 2013, a federal judge approved a $1.6 billion settlement in a class-action lawsuit against Toyota Motor Corp., in response to reports of sudden unintended acceleration in 2009 and 2010. The money will be used to compensate vehicle owners who suffered financial losses because of the problem. More recently, a jury in California found in favor of Toyota after a woman was killed after her 2006 Camry allegedly sped up and went out of control in 2009.
10/24/2014
Jury finds Toyota liable in crash
By Kevan Goff-Parker
The Journal Record
Posted: 08:46 PM Thursday, October 24, 2013
OKLAHOMA CITY – After civil attorneys made their closing arguments Thursday afternoon, an Oklahoma County jury took only four hours to find Toyota Motor Corp. liable without malice because one of its vehicles caused serious personal injuries in September 2007 to one Yukon driver and the wrongful death of her passenger.
The jury made up of one man and 11 women found Toyota liable and awarded $1.5 million to 2005 Toyota Camry driver Jean Bookout for the serious personal injuries she suffered after a crash. The same amount was awarded to Barbara Schwarz's husband and children after the 70-year-old, who was a passenger in Bookout's car, later died as a result of her injuries.
The landmark case has drawn international attention because it is the first personal injury and wrongful death trial and verdict in the U.S. against Toyota Motor Corp. Hundreds of similar cases are ongoing in state and federal courts across the U.S. Yet, the second shoe will not drop in the Oklahoma lawsuit until Friday morning because the jury is in favor of awarding punitive damages in the case. More financial awards will be announced Friday.
Six years ago, Bookout was driving with one of her best friends, Schwarz. While exiting an Oklahoma interstate, her vehicle suddenly accelerated. Despite pumping the foot brake and engaging the parking brake, Bookout was unable to stop her car from crashing. During the accident, Bookout was knocked unconscious. Prior to her death, Schwarz was alert enough to tell rescuers that the Camry wouldn't stop despite Bookout's efforts to halt it. During the trial, plaintiffs' attorneys claimed the Camry's lack of a brake override system may have also led to the crash.
More unsettling, the plaintiffs' attorneys alleged that Toyota knew about the defects, failed to warn consumers and was knowingly deceitful and suppressed facts with the general public. The jury disagreed and found in favor of Toyota.
During the trial's closing arguments, attorney Jere Beasley told the jury that the car manufacturer and distributor considered the trial to be the most important case for Toyota ever. Cole Portis, another attorney for the plaintiffs, said Bookout's medical expenses are now more than $450,000 and praised her and the Schwarz family for their courage.
Toyota's attorneys were grim-faced after the verdict. Throughout the trial, the company's lawyers, including lead attorney Randolph Bibb Jr., claimed that there were no mechanical defects with the vehicle and repeatedly blamed Bookout for possibly pushing on the accelerator instead of the brake and alleged she may not have pushed hard enough on the brake to stop.
Toyota recalled millions of vehicles in 2008 worldwide when customers began reporting that its vehicles would suddenly accelerate out of control and the drivers were not able to slow down or stop. Toyota blamed its challenge then on its all-weather floor mats.
Where OKC parents find fun & resources
Reading Time: 5 minutes Posted in Education, Features, New at MetroFamilyTagged Community0 Comments
Posted on by Kevan Goff-Parker
Reading Time: 5 minutes Posted in Education, Features, Finances, New at MetroFamily, Tweens/TeensTagged Community
The Boeing Company's Frontier Magazine
An incredible gift'

By Kevan Goff-Parker
From left: Steve Bolton and Mike Milholland, business process analysts in Process Management for Commercial Airplanes, are working closely with Cheryl Stephani of the Children's Administration for the Washington State Department of Social and Health Services and using process-management tools to help improve her organization's operations.
Process-management tools help state agency better support families' profits and school districts had already impressed Watt and his staff.
For Martin—who with his wife, Judy, has been a foster parent for more than 11 years—the opportunity to help streamline and standardize the Children's Administration's work aligns perfectly with his volunteer work at Ryther. As he became involved on the strategic planning team at the center, Martin said, he began to ponder how the life of a child could be improved by using process-management principles.
"My work at Boeing is about process improvement—the end-to end flow," he said. "I started thinking about the lifetime of a child and how if we could do the right assessment and diagnostics early, while performing well-thought-out interventions, then maybe the child could get on a successful path."
Martin said the opportunity for his team to work with the administration has meant the chance to influence systemic changes in how the administration operates. Steve Bolton and Mike Milholland, two of Martin's business process analysts in Process Management, now split a three-quarter equivalent budget as they assist DSHS, while Watt's Government Relations and Global Corporate Citizenship organization funds the work, labor, travel and incidentals.
"On my own time, I've personally combined my need to fulfill an ongoing education requirement for my foster-parent license with meetings with Cheryl and her staff," Martin said. "As it has gone on, more work has gravitated toward Mike and Steve. I continue to work with Cheryl on what they need, but they're the focals. We're helping the state government to make major changes in a holistic way."
Bolton said his work involves aligning processes with an organization's strategies while he looks for opportunities to eliminate waste and to document and standardize processes. Among the efforts he and Milholland have undertaken assisting the Children's Administration with mapping out and exploring their processes and working on standardizing how foster homes are licensed.
Stephani said Boeing's work with her agency's core leadership team during off-sites and in regular meetings is improving overall communication within the administration.
"We found we needed to fix some foundational issues rather than put the fix at the end," she said. "We're working more now on leadership development and where there are opportunities to do foundational work. Fundamentally, it is all about people and relationships, whether you're building foundations for airplanes or for children."
The Journal Record
This is a 6/2/2006 article about the Tower Theater.

"The Tower Theater in uptown OKC – a miracle on 23rd Street?

Byline: Kevan Goff-Parker

You'll have to forgive Scott Fife and Marty Dillon if they seem like excited kids in a candy store as they show off the badly dilapidated Tower Theater and adjoining storefronts in uptown Oklahoma City. Although it looks more like a bedraggled damsel in distress rather than the grand dame that once sparkled when it opened during the late 1930s, the Tower Theater at 425 NW 23rd St. has simply stolen the 40-somethings' hearts. Fife, Dillon and their partners, Terri Sadler-Goad and Matt Goad, see the theater with rose-colored glasses and envision a day soon when it will be restored and renewed into a thing of true beauty once again. "I've always liked this place," Dillon recently said as he and Fife used a flashlight to light up the darkened theater. "I played music here in the early 1980s when I was with Wild Youth. I played here at Halloween and they were playing the movie Dawn of the Dead. "While Fife and Dillon have a long history in the music business, Dillon also owns Party Galaxy and Sadler-Goad works at The Oklahoma Gazette. Matt Goad owns his own graphic design company. Together, the foursome formed Uptown Development Group and they promote the theater and its 19 suites of offices and an array of storefronts. "The time was right for this area," Fife said. "Tower Theater is poised for a comeback and is the anchor of the uptown district. "He said Uptown Development Group paid $512,000 in November 2005 for the complex, which has more than 29,000 square feet of space and more than one acre for parking across the street. The Tower Theater has been empty for more than five years. "We want to renovate it, but right now we're getting our funding in order," Fife said. "We have been approved for state and national historic preservation tax credits. We want to bring the complex back to its original art-deco look through the guidance of the Oklahoma Historical Society. "Dillon described a wide array of changes Uptown Development Group and a local architect, Brian Fitzsimmons, hope to make to the facility in order to change into a thriving arts and entertainment destination. "It's going to be a lot of work, but I was really excited to buy it," he said. "There isn't anything like this in Oklahoma City and it will be great to make it happen. "The property was built in 1926 and the 10,000-square-foot theater was constructed in 1937. The group plans to turn the complex into a multiuse facility that will include catered live events, live concerts and the showing of independent films in the 285-seat balcony theater. "We plan to make it more diverse and more intimate," Dillon said. "The Will Rogers Centre is booked pretty solid, but they don't do live music and they go for a corporate type of crowd." Fife agreed. "We need a signature concert venue in Oklahoma City," he said. Dillon said the Tower Theater, when restored, will be the right capacity for promoters wanting quality sound because of the great acoustics in the venue. Plans include transforming some of the space into a two-level Irish pub, installing possible skyboxes in the theater and converting the complex into a mix of retail and entertainment spots. Fife said the group plans to fix the decaying marquee and believes it will become the calling card for uptown. But there's plenty to do before leasing offices or installing restaurants and bars. Fife said the group plans to bring the complex up to fire code, work needs to be done on the roof, air conditioning, the plumbing and electrical system. Meanwhile, the group has the plenty of Spanish-speaking films and horror movie posters from days gone by, as well as the movie projector from the Tower Theater. "We're pretty close on funding," Fife said. "We believe it will take eight months to renovate the theater. We're also working in an economic empowerment zone and with the area's community action agency. There's a lot of interest from city leaders in what we're doing. "The group has received positive reactions to their plans to restore the beleaguered complex. "With gas prices what they are and with all the empty-nesters, many people are moving back into the inner city," Fife said. "The downtown housing boom is a big plus for what we're trying to do." Fife said the property next to the complex is now on the market for $580,000. He finds this offering encouraging. "We are already seeing positive changes in the neighborhood," he said".
Work from Oklahoma Department of Human Services: Inside OKDHS Editor
Issues from Inside OKDHS (Oklahoma Department of Human Services)
From June 2003 to December 2004
Some Magazine Work
Oklahoma Today Magazine – Cover Story

NOVEMBER 12, 2013 ARTS & CULTURE » ARTS
Questionably Fabulous
Oklahoma House Rep. Dan Fisher (R-Yukon) wants to block the comedy from being presented Dec. 5-22 at CitySpace Theatre, a spot that seats less than 100 in the basement of Civic Center Music Hall.
Described as an alternative to Oklahoma City's usual holiday-themed productions, Fabulous' first half spoofs some of the Old Testament's major stories, including replacing Adam and Eve with Adam and Steve.
The theater company's website recommends the production "for adults only" because of sexual themes and adult language.
Fisher, a senior pastor at Yukon's Trinity Baptist Church and a leading member of the Patriot Pastors, a politically active conservative clergy group, provided a written statement to Oklahoma Gazette. He said he is personally disappointed that Oklahoma Arts Council and the Oklahoma City Council have approved the play's production.
Fisher alleges that the play intentionally mocks the Bible, is extremely offensive to Christians and, according to the script, calls for total nudity and simulated sexual acts onstage.
"Adding insult to injury, this play will be presented during the Christmas season," he said. "I find it ironic that in this day, when Christians are constantly being lectured about tolerance, the arts council and the city council consider it acceptable to allow the presentation of a play in a public facility that denigrates the Christian faith during the time when Christians are celebrating the birth of their savior, Jesus Christ."
Fisher stated that he understands the legal right for a private entity to use private funding to host such an "X-rated" event on private property for adults aged 18 years or older. He also believes any amount of public funds used to underwrite a theater company presenting a play that includes "nudity and/or the simulation of 'vigorous' oral and anal sodomy and bestiality on stage on public property to children 14 years of age and above is not an inalienable right."
"I respectfully request that the Oklahoma Arts Council, the Oklahoma City Civic Center and the Oklahoma City [theater] group change their direction and produce a play that would be more reflective of the Christmas season and the traditional themes that surround it," he wrote.
'Simulated sex'
OKC Theatre Company's artistic director, Rachel Irick, said she learned of
Fisher's objections when she was contacted by a reporter from The Oklahoman; she was not contacted by the legislator.
"Whether or not he or any organization intends to follow through with threats to shut our production down or publicly protest it, I think it's horrible
that members of the lesbian, gay, bisexual and transgender community
have to read things like this in the paper," Irick said.
Addressing the allegations, Irick said nudity isn't against the law in a
theatrical production and that some past productions have featured nude
actors.
"Nudity is not the point of the scene in question," she said. "Expressing the innocence, love and
freedom of the two characters in their first moments of existence is the
focus of the scene. We plan to deal with the fact that Adam and Steve
are naked in the garden of Eden in a more creative way."
As for Fisher's allegations of "vigorous" simulated sex acts and
bestiality, Irick said the satirical farce does include bawdy jokes and
broad sexual themes, but that "an actor clowning around in a piggy
costume doesn't qualify as bestiality in my book."
"Let me be clear: The play does not contain simulated sex," she said. "When I
hear the words 'simulated sex,' I think of people onstage attempting to
make the audience believe they are actually engaged in a sex act. To my
way of thinking, the purpose of something like that is to arouse the
watcher. Our purpose is laughter and empathy, not arousal.
"This play is just that: a play. And no one in the audience will be under any
illusions that actual intercourse is being performed, because it
obviously isn't. When a murder occurs in a play, no one in the audience
actually believes someone has died. It's called 'willing suspension of
disbelief.'"
Holiday spirit
OKCTC chose Fabulous to build on the momentum it started reaching out to the LGBT community and its allies with last fall's production of Hedwig and the Angry Inch, a musical about a transgendered rock singer.
"It is our function as artists in society to elicit discussion and change
for the good of our community, so that is what we try to do with every
show and every season," Irick said.
"This play has the audacity to suggest that God created homosexuals just as
they are and loves them just as they are, that God is bigger than any
one religion. These are controversial ideas for a large portion of our
population, but our mission is to try to reflect our community as a
whole, not just the majority.
"Like it or not, LGBT individuals are a vital part of Oklahoma City — at
Christmastime and every other day of the year. I believe that everyone,
regardless of lifestyle, religious belief or nonbelief should have an
opportunity to be represented. To my way of thinking, this freedom
should be a place of common ground that every American should be able to agree upon."
Irick selected Fabulous because she felt family audiences in OKC already are well-served this holiday season. Her troupe has performed many family-oriented shows in the past and will continue to do so.
"In the past, we have produced several Christmas shows with a decidedly
Christian worldview, and if that is what people want to see, it's
definitely available in Oklahoma City this year," she said.
"Our company wants to be about inclusion, not exclusion, and the Oklahoma
City community can expect more of the same from us in the future."
As for the claim the play is an attack on Christmas or Christians, Irick
said the satire spoofs the agendas promoted by anti-LGBT individuals and
their organizations, not any Bible stories or scripture.
"The character of Adam spends most of the play searching for God, for the
meaning of existence and love, and trying to get those around him to
believe in something, too, even though he himself is still searching,"
she said.
"This reflects an incredibly relevant human experience, not just for LGBT individuals but for everyone on this planet."
Finding funding
The Oklahoma Arts Council provided the company with $18,000 to support five other plays this season, but not for The Most Fabulous Story Ever Told. Arts council spokesman Joel Gavin said the agency followed state guidelines that prohibit the funding of programs with simulated sex acts.
Such political pressure by conservatives isn't new to the Oklahoma Arts Council.
Earlier this year, Oklahoma House Rep. Josh Cockroft (R-Tecumseh) introduced House Bill 1895, which called for eliminating funding to the Oklahoma Arts Council over four years.
"There was a bill drafted during the 2013 session to defund us, but it did not
pass," Gavin said. "In general, the state Legislature supports our
agency, understanding the impact of our more than 550 grants in more
than 100 communities statewide."
Irick said the theater company will fight any action possibly taken by the
city to inhibit the group's freedom of expression as artists, but she
doubts it will be necessary.
"I think that in examining the situation, city officials will see that
censoring us would be a violation of our First Amendment rights."
She was stunned and saddened when she discovered the lack of public funding for Fabulous, but the situation led her to reach out for help from the company's patrons, friends and the artistic community.
"We have received a lot of vocal support in return, and a few donations," she said.
"We are far from our goal of $5,000, but we expect to get there before the
show opens as interested parties are made aware of how important it is,
especially now, for us to move forward with complete funding."
Robin Dorner, editor-in-chief of The Gayly, stated in an email that Fisher's attack was aimed not at the play but at the entire LGBT community.
"Because the controversy caused a withdrawal of some of their funding, we felt it necessary to step up and show our support," Dorner said.
Fisher has a right to his opinions, she said, but does not have a right to censor others based upon those opinions.
"The play breaks no law, state or federal, and, in fact, it has been well-received in most major cities," she said.
Irick said many artists in the community have stepped up to help the company.
"We were so encouraged when the cast of last season's Hedwig and the Angry Inch and several independent artists in the community wanted to lend their support," she said.
"They are taking action to help us move this production forward. Reduxion
Theatre Company will also help by joining in on the presentation, and
CityRep is allowing us to use the Freede on that night even though they
are in final stages of rehearsal for an upcoming production. It's
wonderful to see our theater community so unified."
Donations to support OKCTC are also being accepted online at okctheatrecompany.org.
More Oklahoma Gazette articles by Kevan Goff-Parker.